TotipotentRX is a cellular therapeutics and services organization with a unique capability in providing laboratory and clinical trial support to clients.

TotipotentRX has client support and administration offices in the U.S. and India. Our core clinical laboratories and clinical facilities are located in Gurugram.

We operate new world class GMP processing suites completely embedded inside our clinical and hospital network. All laboratories are managed using CFR 21 Part 11 compliant processing and tracking software, and are fully equipped with state-of-the-art cellular processing, cryopreservation, and analytical equipment.

Whether you are investigating the safety or efficacy of a new cellular therapy or testing a medical device, TotipotentRX can assist. Our organization understands the unique regulatory, logistics, and clinical requirements that cell based clinical trials require.

Cost Effective Phase I & II Studies
Key Benefits to Conducting Phase I & II Trials with TotipotentRX in India
Cost Effective: 80% reduction in cost compared to U.S. based trials
Clinical Competency: Our physician consultants are all recognized by U.S., European, or Canadian bodies.
Patient Enrollment: Excellent patient demographics for diverse disease indications allowing faster patient enrollment


Advantages With TotipotentRX

Unparalleled Expertise
Our organization has the widest range of expertise in cellular therapies and medical devices commercialization in the industry

Clinical Competency and Breadth
With over 50 hospitals we service more disease indications under a single management structure than any other organization in the industry

Laboratory Facilities
We own and operate state-of-the art G(x)P laboratories capable of processing, expanding, and cryopreserving cells - including long term storage of samples

Cost Effectiveness
We typically conduct clinical trials in India, a very cost effective and clinically competent location having vast experience in internationally recognized clinical trials. Our cell therapy clinical trial model allows organizations, regardless of size or budget to bring their product closer to marketing clearance.



Services

TotipotentRX provides both a la carte and end-to-end clinical trial services for cellular therapy products - including medical devices.

Most CT products are now controlled under newly drafted or implemented regulations, so trust your clinical trial to an organization that understands the evolving landscape ensuring compliance with U.S. FDA, EMEA, SFDA or DCGI cellular therapy requirements.


TotipotentRX Cell Therapy CRO Vs Traditional CROs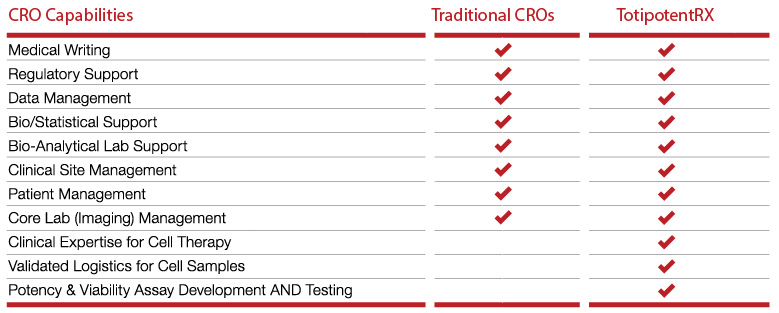 Products Supported


• Cell Therapy
• Medical Devices
• Combination Products (Class IIb)
• Autologous / Point of Care Protocols